Thanks to a voucher discount, I was able to go to Corregidor with a couple of friends a few weeks ago. Needless to say, in all my wishlist of places to go to, this little island was probably not in the top list. I was just expecting the usual artifacts as seen in pictures, but I was totally not prepared with what I saw and experienced.
It was like being swept off your feet for the very first time. Pardon the cheesy line and the gag-inducing sappiness, but this was my immediate impression when the
Sun Cruises
ferry boat docked in the island's small port. It was just past 9AM when we got there and ironically, the sun wasn't that scorching. The wind was cool and refreshing; I think the pleasant weather got us all in an excited mood.
For most of us who still remember bits and pieces of history during the second World War, Corregidor was the focal point for Manila's naval defense. It's hard to believe that this tiny, tadpole-shaped island was Manila's focal point for naval defense. Yet, you'd see traces of that history as artillery batteries consisting of coastal guns, mortars, bomb shelters and cartridge rooms still stand to this day.
While we roamed around the island in tranvia buses, I was mentally picturing what life was back in the days when the island was a sprawling military fortress. Looking at the ruins of the soldier hostels and barracks gave me goosebumps just imagining what kind of life it was back in the war. The place had all the amenities anyone could ask for---swimming pool, a golf course, cinema---but I'm sure those people must've been paranoid at some point, knowing their lives were easy prey during the war.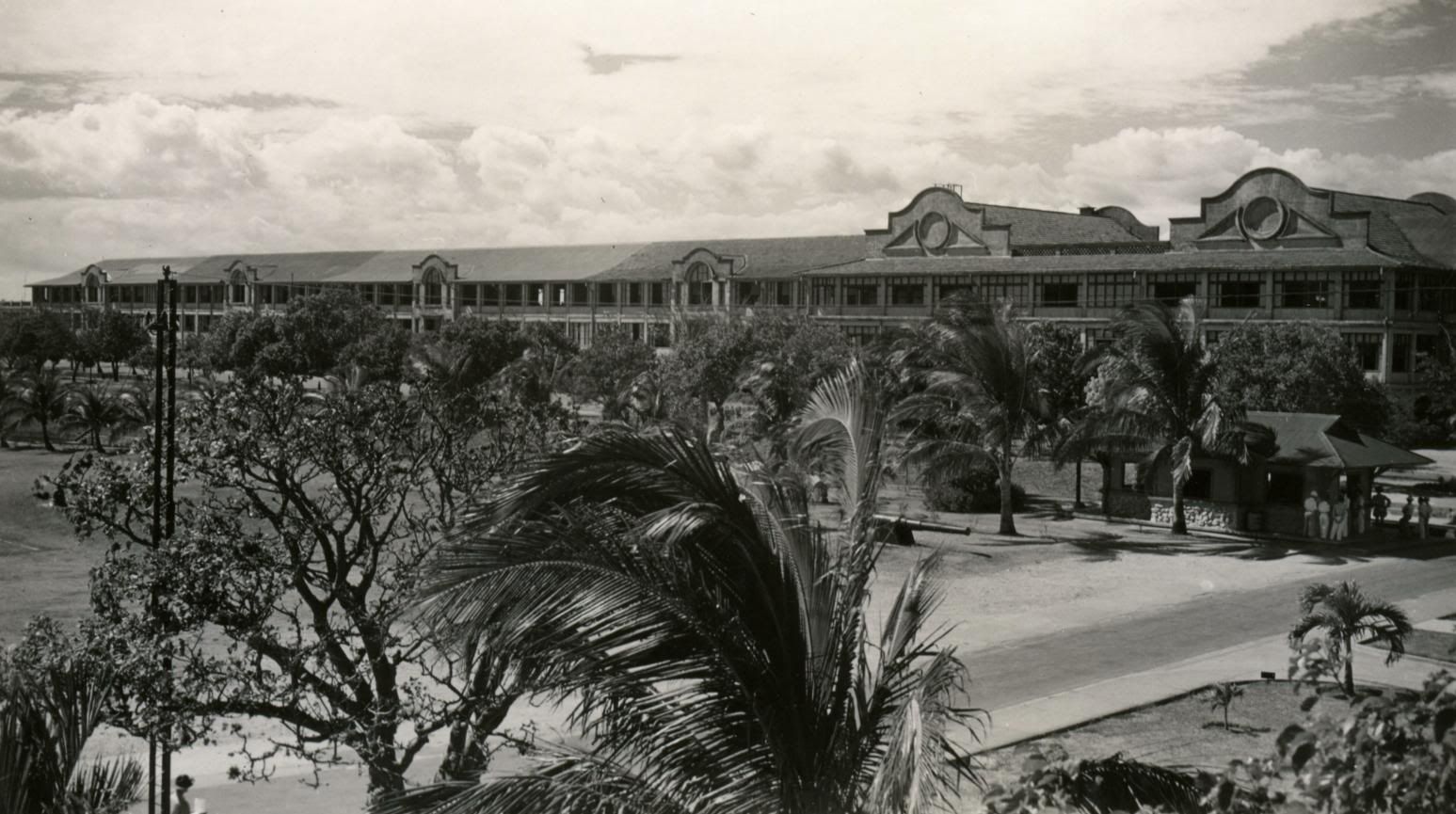 Then and now: Military barracks
It likewise boggled the mind how a place that was pretty much washed up by the blood of many seemed so serene and eerie at the same time. The place seemed indifferent to the tourists' noise. I can't begin to describe what it felt like, but perhaps if I wasn't in a tour group, I would've probably just sat there and watched the ruins all day. In some ways I've been humbled and amazed to see it all.
Which brings me to the point of this post: whoever's in charge of the island's tourism ought to tell visitors to exercise some restraint when going around the area, particularly in monuments, ruins and burial places. I dunno if it was just bad luck that we've been saddled with the most rowdy Pinoys where the words "camera whores" were one hell of an understatement.
Bullets once rained on this place.
Pissed off didn't even come close to describe what it felt like being on the same bus with a bunch of
jologs
tourists who kept on snapping pictures even in pitch black situations in the Malinta Tunnel. Or in the ammunition room where a group of inconsiderate idiots nearly destroyed my ears with their screaming.
To the tourists: Corregidor is a sacred place. People died there. Don't ride on the batteries as if you were riding a godforsaken pony. At least have the decency to reduce horseplay to a minimum and respect other tourists who want to enjoy the trip for what it's worth.
Ten feet high Japanese Buddha statue at the Japanese memorial site.
Sorry about that. Thinking about inconsiderate tourists set my teeth on the edge.
My friends and I are planning to return to Corregidor, this time, for an overnight experience. Though I don't particularly relish ghost hunting, I guess close encounters with the supernatural kind beats the hell out of breathing the same air with idiots.
This wasn't the original Spanish lighthouse, but this was the same spot where it once stood.
And now for some tips:
Research. You'll never know if you're going to get saddled with a tour guide who tells fiction rather than facts. Which brings me to another point: don't believe everything your tour guide says. If you're unsure of the information, go back to your books or research elsewhere.
To hell with courtesies. If a rowdy bunch of tourists behave like a bunch of Bieber fanatics, tell it straight to their faces to shut their pie holes. Otherwise, you might pop an artery.
If you can go for an overnight stay, do it. You'll just be amazed how many interesting sites you'll miss in the day tour.
Be considerate of other tourists. We of all people should practice proper decorum not because there are foreign tourists, but to respect for those who died there.
They used to watch movies here.